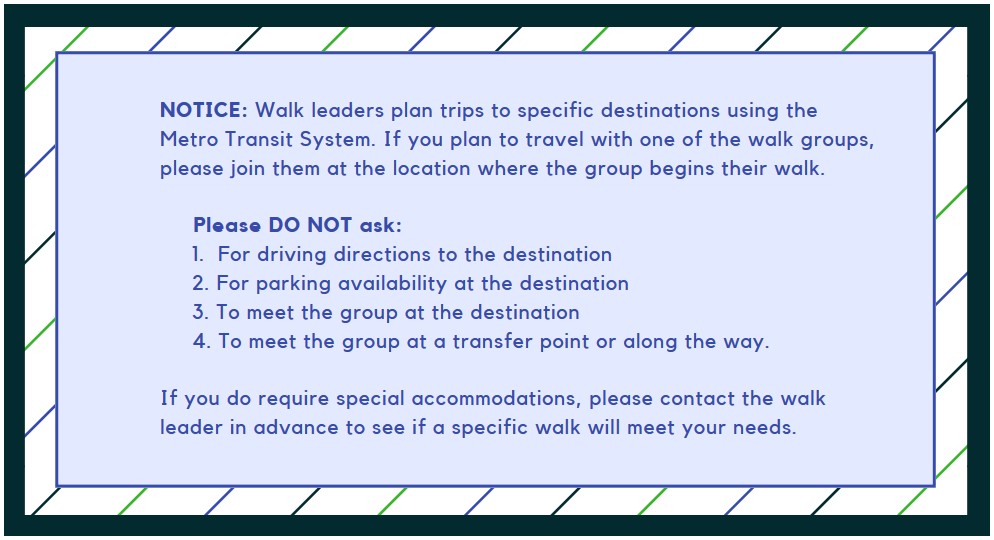 The Rock Road Station walks will be led by a team of walk leaders.  Each walk leader will add his/her own flair to the walks.  These walks will occur on Sundays at 2:45 pm and will be family friendly unless specified otherwise.
Please contact Ted Simpson at Beyond Housing if you are interested in this group. He can be reached by phone at (314) 643-8614 and by email at tsimpson@beyondhousing.org.
Fall 2017 Schedule
Destination
Date
of Walk
Day
Time
Walk Leader
NO WALK
Sept. 10
Sunday
3:00 pm
Wash U Centennial Trail
Sept. 17
Sunday
3:00 pm
Marla Smith
The Grove
Sept. 24
Sunday
3:00 pm
Errol Bush
Laclede's Landing
Oct. 1
Sunday
3:00 pm
Hazel Ashford
Eads Bridge
Oct. 8
Sunday
3:00 pm
Marla Smith
Thies Farm
Oct. 15
Sunday
3:00 pm
Tajuana Gregory
Ikea
Oct. 22
Sunday
3:00 pm
Monica Jenkins
Forest Park
Oct. 29
Sunday
3:00 pm
April Taylor
Ballpark Village
Nov. 5
Sunday
3:00 pm
Monica Jenkins
Grand Center
Nov. 12
Sunday
3:00 pm
Errol Bush
Galleria
Nov. 19
Sunday
3:00 pm
Marcieta Reed
Delmar Loop
Nov. 26
Sunday
3:00 pm
Beverly Burbridge
Alternate walk locations in event of inclement weather: Galleria mall, Union Station, St. Louis Mills, St. Louis Art Museum. Group will meet at Rock Rd. Station as scheduled.