Walks range from 0.3 to 5 miles, depending on the group and destination.
Walking groups meet at MetroLink stations and take Metro transit to the destination. We walk in a variety of places such as Forest Park or Carondelet Park, downtown St. Louis or the Delmar Loop. Groups often finish at a unique shop or stop for lunch or snack before heading back. Register for the Spring 2022 session today!
---

Register Online or In Person

New registrants for the Ten Toe Express® program will receive a Ten Toe welcome kit.
New participant kits include a pedometer, weekly walk logs, transit tickets, St. Louis maps, safety tips and a Ten Toe tote bag to hold it all. Get started here.
---

Special Walk info for Spring 2022
Special walks for the spring 2021 session will primarily take place outside.  Social distancing protocols will be observed throughout the walk and masks will be required when not social distancing outside.  Walk participants are encouraged to wash their hands frequently, avoid touching their face, and use hand sanitizer when possible.
---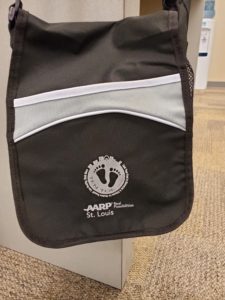 Explore new areas of St. Louis, get in some exercise and have a good meal with the AARP in St. Louis Brunch Bunch. AARP in St. Louis is proud to once again serve as the presenting sponsor of the Citizens for Modern Transit, Ten Toe Express program which promotes healthy behaviors while using public transit.

---

Schedules for our Walking Groups are posted online as they are made available. All walks are lead by experienced Walk Leaders and leave from MetroLink stations. All go to a variety of places and attractions. RSVPs are often required. Visit our calendar to get a quick look at what our walking groups are doing. Details.