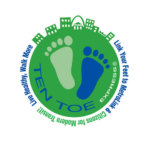 The Fall CMT Ten Toe Express ® session runs from August through November, with registration events throughout the month of August. Please find registration information for the Fall 2023 session below.
New Registrants
You can register online or in-person at one of our registration events before the start of the fall or spring walk sessions. (Note that none of your info will be shared with others.) You may also request a registration form be mailed to you by writing info@cmt-stl.org or by calling 314.231.7272.
Re-Registering for CMT Ten Toe Express ®
If you have participated in the program in the past and would like to participate again, you need to RE-REGISTER for the program you can do so online or mail a registration form and $15 check to CMT. You can also request a registration form at info@cmt-stl.org and mail the check to CMT, 701 Market Street, Suite 275, 63101 to re-register. There is no need for you to attend a registration event. Your packet will be mailed directly to your home.
Interested in setting up a walking program tied to public transit in your region?
If you are a regional public transit administrator, in public health and fitness, Citizens for Modern Transit can help you set up a similar program for your region. Start by downloading our brochure: CMT Ten Toe Express ® Walk Guide to see an outline of how it can be done. We would be glad to discuss with you how we can help get things moving, from grant writing to administration and website setup. Give us a call, 314.231.7272
In-Person Registration Events:
| | | | |
| --- | --- | --- | --- |
| Date | Time | Location | Address |
| Wednesday, Aug. 2, 2023 | 10 am – 12 pm | Shrewsbury Community Center | 5200 Shrewsbury Ave., St. Louis, MO, 63119 |
| Friday, Aug. 11, 2023 | 10 am – 12 pm | St. Clair County Office on Aging | 201 N. Church St., Belleville, IL 62220 |
| Wednesday, Aug. 16, 2023 | 10 am – 12 pm | Shrewsbury Community Center | 5200 Shrewsbury Ave., St. Louis, MO, 63119 |
| Tuesday, Aug. 22, 2023 | 10 am – 12 pm | Belleville Transit Center | 718 Scheel St., Belleville, IL 62220 |
| Friday, Aug. 25, 2023 | 10 am – 12 pm | St. Clair County Office on Aging | 201 N. Church St., Belleville, IL 62220 |
| Tuesday, Sep. 12, 2023 | 8:30 am – 1:30 pm | BJC Fall Prevention Event: BJC Center for Advanced Medicine | 4921 Parkview Pl., St. Louis, MO 63110 |