The Fall 2018 Session will kick off on Wednesday, September 5 and run 12 weeks.  Walkers must register to participate in each Spring and Fall Session.  Please contact CMT with questions at info@cmt-stl.org.
NOTE: You must register in order to be eligible to attend special walks.
---
September 5, 9:00 am – Fall 2018 Kick off – Ten Toes Tours the Gardens
What Makes the Garden GREEN?
This walking tour of both public-facing and behind-scenes features will highlight Green building, water and energy conservation, recycling and composting – and include some lovely plantings and Garden history. Your guide is "Green Jean" Ponzi, program manager in the EarthWays Center, the sustainability division of Missouri Botanical Garden.  Don't miss the exciting kick-off walk for the Fall Ten Toe Session!
Join CMT and AARP in St. Louis for an exciting 2018 Fall Kickoff 
When: Wednesday, September 5, 2018
Meeting time: 9:00 a.m.
Where to meet CMT:  Shrewsbury MetroLink Station
Length of Walk:  1-2 miles
Walk Capacity: 25
This walk has limited capacity. 
________________________________________________________________________
AARP St. Louis Breakfast Bunch

Saturday morning AARP Breakfast Bunch walks:  Explore new areas of St. Louis, get in some exercise, and have a good meal with the AARP St. Louis Breakfast Bunch. On select Saturdays this fall, AARP volunteer-led groups of Ten Toe participants will ride the MetroLink then walk to one of our many great St. Louis area restaurants to enjoy a yummy breakfast with great company.
AARP St. Louis is proud to be serving as the presenting sponsor of this great program which promotes healthy behaviors and encourages us to maintain an active lifestyle.
Breakfast Bunch walks with AARP St. Louis meet on select Saturdays. For the Fall 2018 Ten Toe Express session, we'll meet on
Details to know:
Meet at the Shrewsbury Station at 8:30 a.m. on walk days, and return back to the station no later than 12:00 p.m.
Space is limited.
________________________________________________________________________
October 12, 12 pm – Transit and Healthy Foods  – Linking your own ten toes and transit to local, fresh foods
Destination: Fair Shares CCSA
For this special walk we will be visiting the Fair Shares CCSA (Combined Community Supported Agriculture). The tour will include a light sampling of some of their locally sourced products and offer walkers the opportunity to purchase from their exclusive collection. Walkers are encouraged to bring their own shopping bags to take home their tasty treasures. Fair Shares CCSA has created a local food loop that connects farmers, small producers and the St. Louis community they feed.
This walk is co-hosted with special guests from the St. Louis Food Policy Coalition (STLFPC). Making the link between transit and healthy food options in STL: The STLFPC is a group of organizations/individuals led by the Missouri Coalition for the Environment (MCE). The STLFPC is working to promote community markets that provide fresh produce to neighborhoods while supporting local, environmentally-responsible farmers.
When: Friday, October 12, 2018
Where to meet CMT:  Shrewsbury MetroLink Station
Time: 12:00 pm
Length of Walk: around 2 miles
Special Guest Walk Leaders:  St. Louis Food Policy Coalition
Walk Capacity: 30 people
This walk has limited capacity.
_________________________________________________________________________
Canceled – October 20, 10 am – Ten Toes Goes Geocaching – A geocache is a scavenger hunt based on your own smart phone.
St. Louis Area Geocachers Association (SLAGA) adds a new dimension to the CMT Ten Toe Express with an opportunity to take a geocache adventure with your grandchildren.
For this special walk, we will be teaming up with SLAGA for a guided introduction to geocaching. SLAGA will give  a short presentation about geocaching and best practices.  We will then set out to find geocaches in Forest Park. Geocaching is an all ages activity and a wonderful way to spend time with your grandchildren or other special-to-you kids who might want an adventure.
Meet at the Shrewsbury MetroLink Station on November 14 at 8:45 am.  We will take the train to the Forest Park Station and make our way to the Missouri History Museum in search of a hidden caches.
This walk has been canceled.
_________________________________________________________________________
November 8 – MetroLink and MicroBrews – Downtown MicroBrew Tour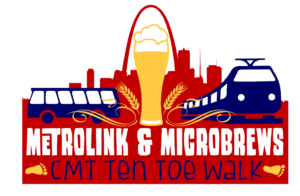 Walk, ride and taste with us!
Discover Down Town's Microbreweries with a visit to Brick River Cider Co. and the Schlafly Tap Room via MetroLink on Thursday, November 8th, 2018.  Walkers will depart from the Shrewsbury MetroLink Station.
The first stop on this happy adventure is Brick River Cider Co. Walkers will explore the brewery on a guided tour with the cidery's founder, Russ John. Russ will detail the history of the building and the Brick River process to making a great cider.  Participants are asked to wear close toed shoes to take this tour.  There will be an opportunity to purchase beverages at the event.
Next up, Schlafly's Tap Room!  At Schlafly's, walkers will be given a short presentation about the brewing process and followed by a guided tasting of beverages brewed on location. Walkers are welcome to sample the menu at either brewery so that they may fully appreciate the unique places that transit can take us. Limited to 25 participants.
This walk includes a $5 fee to cover the cost of the guided tasting at Schlafly's Tap Room.
When: November 8th
Meeting time: 10 am
Where to meet CMT:  Shrewsbury MetroLink Station 
Length of Walk:  1-2 miles
Walk Capacity: 25
Fee: $5
Dress Requirements: Closed-Toed Shoes

This walk has limited capacity. 
Event registration fees are non-refundable unless the event is canceled or rescheduled by Citizens for Modern Transit.