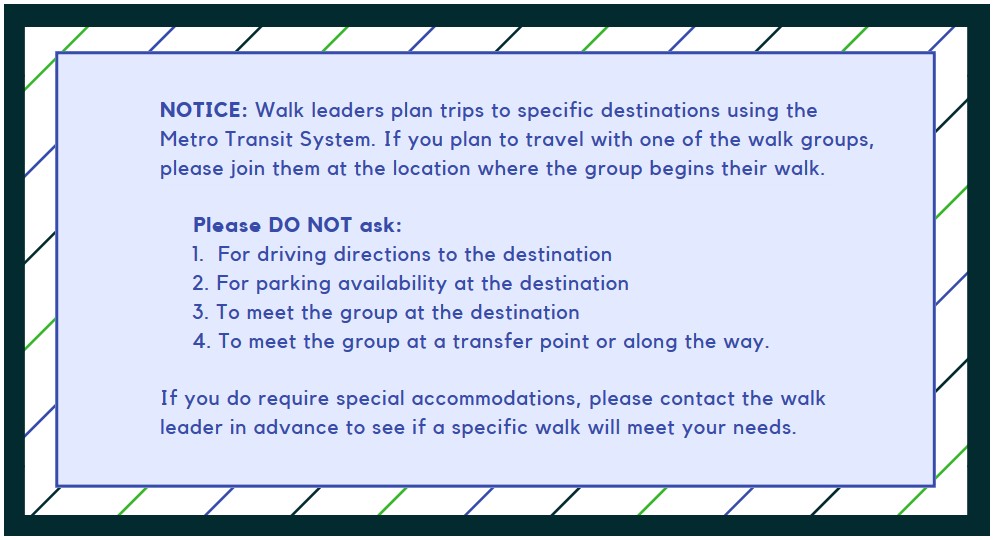 Unless noted, Mary Fran will meet her group on the platform.  This group walks between 2 and 5 miles and always schedules a lunch stop.  Plan on 3-5 hours each trip.
If you are interested in a walk, please email Mary Fran at 10tentoesmfb@att.net shortly before each walk for full details.
Leader will be at starting point, rain or shine!

---
Fall 2021 Schedule
Destination
Date
of Walk
Day
Time
Walk Leader
Grant's Trail
9/8
Wed.
10 am
Mary Fran Balmer
City Foundry
9/15
Wed.
10 am
Mary Fran Balmer
Tentative – Carondelet Park
9/22
Wed.
10 am
Mary Fran Balmer
Columbia, IL
9/29
Wed.
10 am
Mary Fran Balmer
Kress Farm – Sandy Creek Covered Bridge
10/6
Wed.
10 am
Mary Fran Balmer
Sheldon Coffee Concert
10/13
Wed.
10 am
Mary Fran Balmer
Tentative – Tower Grove Park
10/20
Wed.
10 am
Mary Fran Balmer
Tentative – City Foundry
10/27
Wed.
10 am
Mary Fran Balmer
Tentative – Longview
11/3
Wed.
10 am
Mary Fran Balmer
Tentative – Big Tree Park
11/10
Wed.
10 am
Mary Fran Balmer
Tentative – Queeny Park
11/17
Wed.
10 am
Mary Fran Balmer
Tentative – Alton, IL
11/24
Wed.
10 am
Mary Fran Balmer