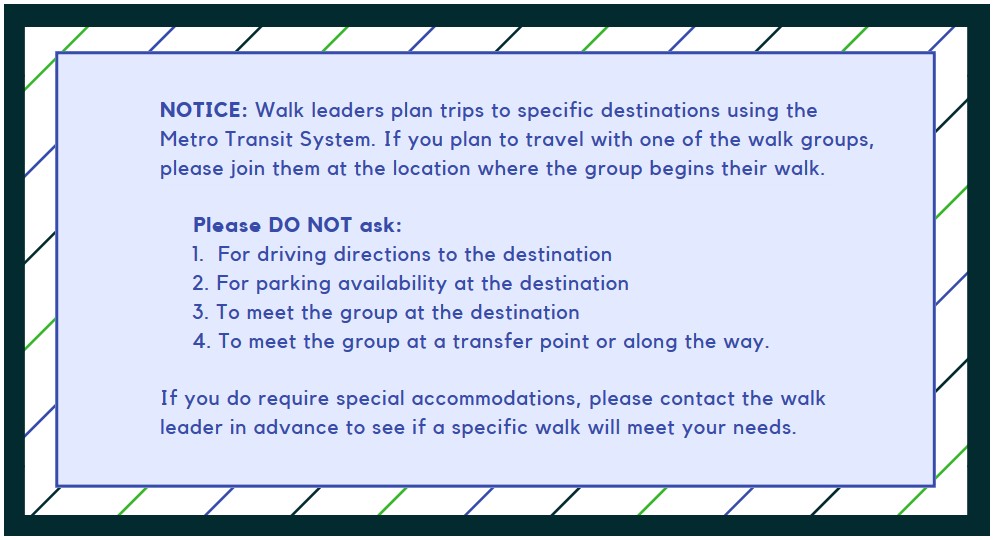 STARTING POINT:  Shrewsbury-Lansdowne I-44 Station on MOST Mondays
Donna Pflanz and CMT Staff will lead walks on MOST Mondays during the fall session. Walkers will meet at the Ticket Vending Machines at the Shrewsbury MetroLink Station. Any exhibit fee associated with a walk will be the responsibility of each participant. Time involved is 3 – 4 hours. An email is sent prior to each week's walk with walk details.  Additional walks may be added during the season based on walk leader availability. Questions:  pflanz.donna@gmail.com or info@cmt-stl.org
ALL WALKS ARE SUBJECT TO CHANGE THROUGHOUT THE SESSION.
---
Fall 2023 Schedule
Destination
Date
of Walk
Day
Time
Walk Leader
BJC Fall Prevention Event – Barnes Jewish Hospital center for Advanced Medicine
9/12/23
Tuesday
9:30 am
Donna Pflanz
Walking the heart of Webster Groves
9/25/23
Monday
9:30 am
Donna Pflanz
Walk along the St. Vincent Greenway
10/2/23
Monday
9:30 am
CMT Staff
MO Civil War Museum
10/11/23
Wednesday
9:30 am
Donna Pflanz
Science Center/Planetarium
10/23/23
Monday
9:30 am
Donna Pflanz
Samuel Cupples House
11/7/23
Tuesday
9:30 am
Donna Pflanz
Tour of Delmar Divine
11/13/23
Monday
9:30 am
CMT Staff
Jewel Box
11/20/23
Monday
9:30 am
Donna Pflanz