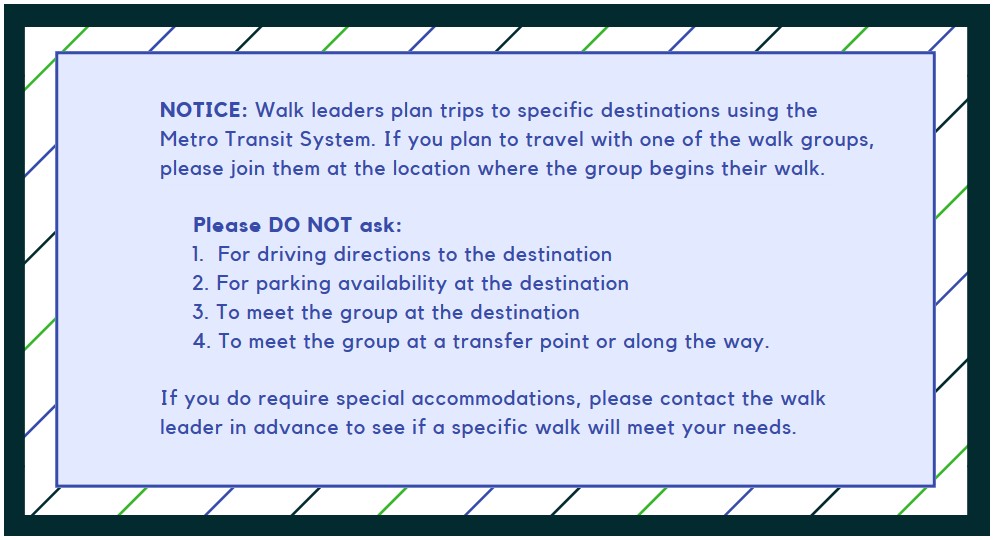 Donna Pflanz is the walk leader of the Thursday Shrewsbury group. Walkers will meet at the Ticket Vending Machines near the Park n  Ride lot otherwise on the schedule below. Donna can be reached at pflanz.donna@gmail.com.
Walks are moderate and will involve walking no more than 1-2 miles. Walks usually last 2-3 hours.
While our other Ten Toe Express routes are scheduled weekly, this group will meet occasionally during the spring and fall sessions.
Full description of walks below followed by the walk schedule table.
NOTE: This schedule is subject to change.
| | | | | |
| --- | --- | --- | --- | --- |
| | | | | |
| Walking from Metro Station to Francis Slay Park | April 8th | Thursday | 9:00 am | Donna Pflanz |
| Meet at Carondelet Park | April 15th | Thursday | 9:00 am | Donna Pflanz |
| Meet at River City Casino to JB Memorial | April 22nd | Thursday | 9:00 am | Donna Pflanz |
| Meet at Willmore Park | May 6th | Thursday | 9:00 am | Donna Pflanz |
| Walking from Metro Station to Francis Park/Ted Drews | May 13th | Thursday | 9:00 am | Donna Pflanz |
| Downtown St. Louis | May 27th | Thursday | 9:00 am | Donna Pflanz |
| Tower Grove East | June 3rd | Thursday | 9:00 am | Donna Pflanz |
| Tower Grove West | June 17th | Thursday | 9:00 am | Donna Pflanz |
| Forest Park – Emerson Grand Basin | June 24th | Thursday | 9:00 am | Donna Pflanz |
| | | | | |