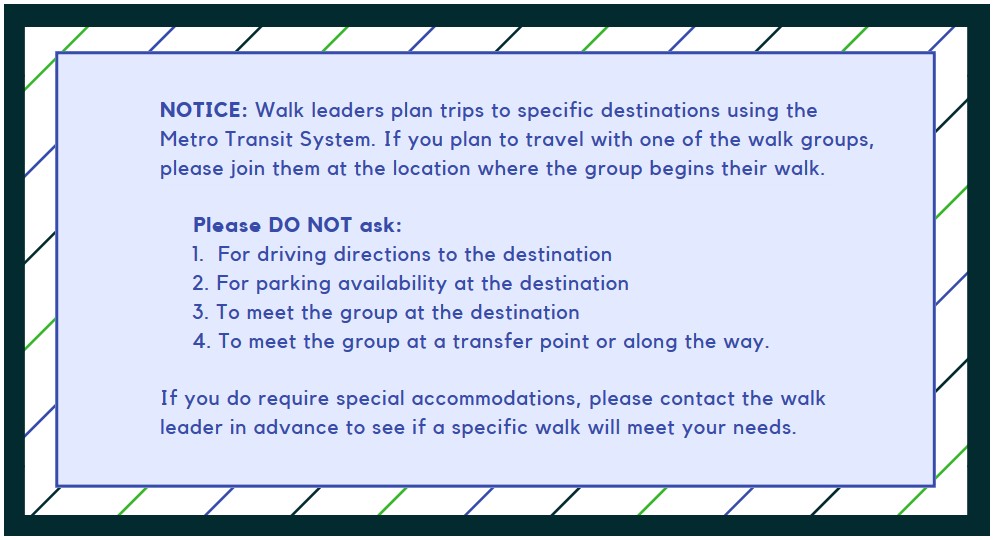 Dan O'Connor leads this group and e-mails the group several days before each walk. If new, e-mail Dan to get on the list. Dan can be reached at panad65@yahoo.com or 314-753-2752. Some walks will require an RSVP AFTER the weekly e-mail is sent, a few days before the walks. You are encouraged to get on the e-mail list for the latest information.
All walks meet at Shrewsbury Landsdowne MetroLink Station unless otherwise noted.
These walks are 'moderate calorie burners'. Be at the METRO stop at the times listed….NOTE VARIED TIMES. Walks will be canceled by 8 am if inclement weather. Dan's walks usually meet near the bus stops close to Landsdowne.
---
Fall 2019 Schedule
Destination
Date
of Walk
Day
Time
Walk Leader
MO History Museum/Pulitzer Photo Exhibit
9/9
Mon
9:00 am
Dan O'Connor
TBD
9/16
Mon
Dan O'Connor
TBD
9/23
Mon
Dan O'Connor
Cherokee Street
9/30
Mon
9:00 am
Dan O'Connor
Clayton/Hanley House
10/7
Mon
8:45 am
Jim & Sandy Harrington
Flora Place
10/14
Mon
9:00 am
Donna Pflanz
Blackburn Park in Webster Groves
10/21
Mon
9:15 am
Judy Wernert
Shriners Hospital
10/28
Mon
9:00 am
Mary Jung
The Grove
11/4
Mon
8:45 am
Jim & Sandy Harrington
The VILLE ($)
11/11
Mon
9:15 am
Judy Wernert
Humane Society
11/18
Mon
8:45 am
Donna Pflanz
TBD
11/25
Mon
Dan O'Connor